Objectives
Specific objectives of the project are listed below.
Gather and preprocess a variety of data needed for model simulation: Level 1 MetOp and Sentinel backscatter data, meteorological forcing input, hydrological validation data, ancillary data.
Prepare the Hydrological and Land Surface Models (HM and LSM respectively) for simultaneous soil moisture and vegetation data assimilation, taking into account that vegetation is not a variable but a parameter in the HM.
Develop observation operators based on the forward implementation of the Water Cloud model or a new model, and connect the HM and LSM to microwave satellite observations.
Perform hydrological simulations and hydrological ensemble predictions with data assimilation (updated initial conditions) and compare the results with the baseline simulations (without data assimilation).
Assess the performance of the updated models by comparing the simulation results with observations.
The study area comprises two catchments, the Demer in the Scheldt River basin and the Ourthe in the Meuse River basin.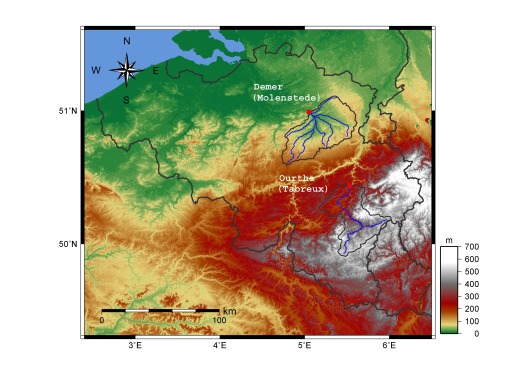 The Demer and Ourthe catchments